Our very own Extreme Restraints Store! If you are looking for any toys. We have strap-ons, bondage gear and even electrostim toys! Step in and take a look!
---
Fantasy Makers Bookstore
---
Fantasy Makers' Gift Cards and Videos
Please send me the following Fantasy Makers Gift Cards:
| | | |
| --- | --- | --- |
| Qty | Description | Total |
| | Silver 1/2 Hour cards @ $110.00/ea | |
| | Gold 1 Hour cards @ $160.00/ea | |
| | | |
Name________________________________________________
Address_____________________________________________
City______________________________ State______
Zip____________-______
(Please do not send cash. Make checks payable to Kaleidoscopic Concepts. For fastest response, please send cashier's check or money order; if sending personal check, please allow a few extra days for check to clear.)
Send Requests to:
Kaleidoscopic Concepts
P. O. Box 5113
Richmond, CA 94805
Videos
Videos starring your favorite Fantasy Makers. To purchase a video, send checks or money order made to:

Kaleidoscopic Concepts
PO Box 5113
Richmond CA 94805-5113
USA
Please include $5.00 shipping and handling for each video (within the US) and you MUST include a statement that you are legally of age in your state of residence. Orders shipped by UPS ground, delivery available to street addresses only, no PO boxes. Please call about shipments outside of the Continental US. Sorry, but we are unable to ship to the following states: AZ, AR, AL, FL, GA, MS, MO, NC, SC, TN, TX, UT, VA.
---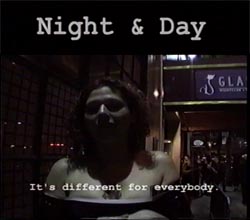 Night And Day
This film is a thought-provoking little gem, filmed by a group of Cultural Anthropology students who decided to explore the world of fetish play as a class project. We assisted them with interviews, a tour of the Playhouse, and introductions to other lifestyle players and groups. The result is seventeen minutes of beautiful film reporting.
If you've every been a loss for words trying to explain your fantasies to someone who's never been exposed to kink, show them this film.
We'll be happy to make you a DVD (or VHS tape) for the cost of our time and materials. Please send $15 to the address above, plus $5 for shipping. Please include an age statement, and specify whether you want tape or DVD.
---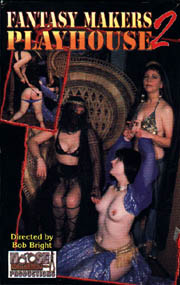 Playhouse Volume 2
The fun begins with a playful harem scene, as Judith is teased and tormented by Phoenix and Mistress Tatiana. Arms bound in the air, Judith enjoys being stroked by soft fur, but the spanking and flogging bring tears to her eyes...
Playtime's over, though, in the second scene. Poor Phoenix has been sent to Master Adam for discipline, and the lessons aren't gentle: her ass and back turn glowing red as Adam lays down the law with hard spanking, flogging, candle wax, and the torment of his nasty singletail whip!
In accordance with federal law, all participants are 18 years of age or older, Proof on file with M. Norton 8955 Fullbright Ave Chatsworth CA 91311
---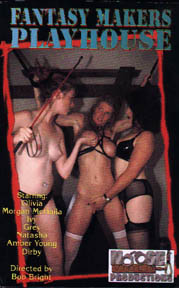 Playhouse Volume 1
Scene One - Experienced Mistress Morgan teaches Amber the proper way to discipline her beautiful busty slave, Olivia. In a sensuous, tongue-lapping session, Olivia is subjected to nonstop slapping, spanking, paddling, and more.
Scene Two - A young couple, Grey and Ivy, don't have the money to pay back a loan. Mistress Natasha punishes them both, making them spank each other for her amusement. Poor Grey gets the worst of it when Ivy discovers she enjoys his predicament. Some nice red butt spanking and caning.
In accordance with federal law, all participants are 18 years of age or older, Proof on file with M. Norton 8955 Fullbright Ave Chatsworth CA 91311