Welcome To the Fantasy Makers' Erotic U (aka Recommended Reading)!
Yes, Darlings, there was kink before 50 Shades. There was even sex before internet porn, most of which is so boring you have to be pretty horny to watch it -- and some of it was pretty good. It's amazing, but thanks to the Internet, it's a lot harder to keep the erotic genie locked in a bottle. Thanks to Uncle Google, you can find a wealth of erotic information and entertainment without leaving the privacy of your own bedroom.
Now we have a new problem. 90% of everything is cr...uhh..."inactive ingredients". How do you find the good stuff without having to plow through a lifetime supply of **anerotic dancing?
Let us help you. We know a few books, websites, films, etc. that are eminently worth peekng at
THIS THING WE CALL SEX: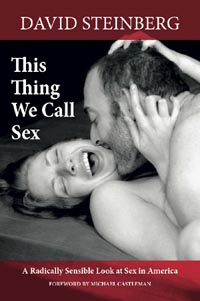 About This Book
This Thing We Call Sex: A Radically Sensible Look at Sex in America, has just been published by Booktrope, an innovative independent publisher based in Seattle. The official date of publication is this Friday, March 13, but copies of the book are available now, both directly from the author's site, or from our new Fantasy Makers Amazon Store!
As many of you know, for 15 years David wrote Comes Naturally, a monthly column on sex and gender. David was a City Brights blogger for the San Francisco Chronicle for two years, and has also written for such journals as Salon, Playboy, SF Weekly, Boston Phoenix, The Realist, Cupido, The Gay and Lesbian Review, and Transgender Tapestry.
For This Thing We Call Sex, David have re-edited the best and most relevant of his earlier writing, adding several new pieces, and including 40 of his fine art couples photographs and a scattering of poems. The essays and stories span a variety of subjects, including the nature of sex and desire, female sexual empowerment, sex in and out of marriage, sexual deviance, transsexuality, sex education for teens, homosexuality, prostitution, sexual art, sex and spirituality, sadomasochism, bisexuality, group sex, sex trafficking, pornography, homophobia, the sexuality of children, and abortion. The writings range from whimsical to philosophical, from journalism to advocacy, from the personal to the sociological, from storytelling to analysis.
---
That's the newest...Now let's start with the classics.
SM-201.org is BackDrop Club's wiki-style kink encyclopedia. Normally, it's it's my A-list for adult resources, but right now the site is down for technical reasons. Fortunately, there's an archived copy on the Wayback Machine site from late 2014, so you can browse the BackDrop Reading List. Here's the link. To find the Reading List, click on "List of Lists". then on "Reading List" at the very end.
You'll find old friends like The Story of O, Screw the Roses and Jay Wiseman's SM-101, and lots of good books you never heard of: some fact, some fiction, some ideas for a fun evening (or session). If you'd like an academic ball gag for your father-in-law who insists our favorite pastimes "just ain't natcheral" I particularly recommend the works of Robert Ardrey and Desmond Morris.
Here are some of our favorites, skipping the ones that are already on their list:
That's a start. We can add to it as we go along. If you have suggestions of your own, send 'em to FMCreative@fantasymakers.com; we'll slip 'em in.
For links to our new Amazon Store and other shopping fun, visit our Shopping Mall.