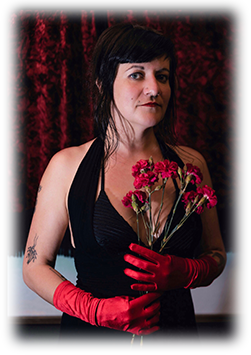 Hi there! My name is Naomi Grey. Some of you may already know me from doing sessions at Fantasy Makers. For over 5 years I have considered Fantasy Makers my second home and the people within its walls family and friends. It is very important to me that this group continues indefinitely and that our home will always be a warm and safe place for everyone. I consider it an honor that Lorrett has entrusted me to carry on the traditions and spirit that makes our group unique and our home more than just a session house. It is "the house that friends built".
BE THE FIRST TO KNOW!
We update our web page only once every month. In between updates, keep an eye on our social media connections. You can follow Fantasymakerssf on Twitter and Instagram. Tumblr is where the Ladies post new pictures, announce schedule changes and surprise visits (sometimes by former Fantasy Makers who moved away), and talk about whatever's on their minds. Ladies who fill in "rotating" shifts on short notice often announce them, and new Ladies post sneak previews before they pop up on the website!
,
To get an e-mail when we post the web update or post other announcements, you can join FMChatter, our Yahoo e-group. First, sign up for Yahoo groups HERE, then join our group. The only"real" information you have to give them is an e-mail address to send your updates. If you want an anonymous online e-mail address, Mail.com is a good bet, and their basic service is free.
But remember, you have lots of ways to get to know us. The pictures on our home page are links to each Lady's individual page, where you'll see more photos, an introduction to the Lady and her interests, an e-mail link in case you want to contact her. She may also have a wish list, links to blogs and web pages, and maybe an "Images and Offerings" page for stories, letters and art.
Other links on our home page will take you to our FAQ for answers to general questions, to a photo tour of the Playhouse, to photo galleries by some of our favorite camera artists, to our social media: c

, ,

, FetLife, and to our fan mail page.
Our FetLife group, is called "Fantasy Makers and Friends". If you don't already know, FetLife.com is the social go-to site for anyone with fetish or fantasy interests. Go look – you'll like it. (There are also links on our home page).
ARRIVALS AND GRADUATIONS
This last month we have had some exciting new members join us! Some of you have already seen this on our Instagram and Tumblr. Check out the profiles of Alma, Amazon, Freya and Sienna. Juniper is going independent but will still visit the house at least once a month. You can always connect with her through email and follow her on social media for updates in scheduling.
Fantasy Makers is looking to expand our group and would love to hear from submissive and switch ladies interested in joining us at the playhouse. Experience in doing kink as pro sessions is a plus but not required. The only requirement is having an interest in kink and the ability to work well in a group. Contact Naomi at greynaomi77@gmail.com.
VACATIONS AND OTHER SCHEDULE EXCEPTIONS:
It's hard to keep up with all the comings and goings, but they're a big part of what makes us special. One or two day absences (or appearances) come up on short notice: "sneak previews", visiting "graduate" Fantasy Makers, you name it. Tumblr and FMChatter help. We usually get enough notice about vacations to post them on the schedule page, so you can plan ahead, but for up-to-the minute information about who's here, please give us a call.
is an intro to the camera artists who fill our pages with their images, with links to their web pages where that's appropriate. It's a great place to peek once in a while. When we hear that a photographer is inactive or not posting fetish images, we suspend their galleries so we can announce them when they send us new work.
ARRANGING APPOINTMENTS
Have a peek at our FAQ page If you're not sure how to schedule an appointment by phone or by e-mail.
IF YOU'D LIKE INDIVIDUAL INSTRUCTION:
Yes, you can arrange a private training session or two here at the Playhouse, either by yourself or with your partner. A lot of novices and couples have enjoyed being able to "try things out" with experienced people in a safe place. See our FAQ for more about this.
THE HOUSE THAT FRIENDS BUILD
This is a safe, friendly place to enjoy yourself and be yourself. We intend to keep it that way. Our friends who helped build the second floor made our house big enough, and our friends who volunteer their time, talents and ideas keep things interesting. Just to make sure our "angels" feel appreciated, here come the THANK YOU's.
Thanks, as always, to our plumber, who keeps us in (and out of) hot water, and to the hero who claims to be our One True Vanilla Friend, and is always around in a pinch. Thanks to all the other fellows who don't want to be mentioned by name, but help us with projects, and help keep the house fixed-up and shining. Thanks to the Mountain Man – he's always here for us. A thousand thanks to the Party God – for a thousand things. Thanks to our volunteer photographers, who have the terrible job of being commanded, wheedled, seduced and otherwise persuaded to take pictures of these gorgeous women. Poor babies, we'll try to make it up to you!
ARE YOU A HERO?
So – you missed out on our renovation project? Don't be sad – there are always ways for you to help us keep the Playhouse humming. Read on, read on!
What can you do? Well, the first thing is to come see us when you can, and have fun here. If you visit forum or fetish sites online, talk about us! The very best advertising comes from word of mouth, and word of mouse! Another thing is, if you see something about us online that you know isn't true, say so.  Everybody has the right to voice their opinion, but sometimes those opinions create misunderstandings.  It helps when people who know what we're like speak out when something isn't right.
If you're saddling up and dusting off your White Hat, please start out with a peek at our FAQ, then drop me an e-mail at FMCreative@fantasymakers.com. Tell me what kind of hero you want to be, and let's make it happen. Remember, no good deed will go unpunished. Or is that "unpublished"? <grin>
ONE MORE THING:
This column exists to keep you up to date on our doings. We try to avoid making it a forum for outside matters, but sometimes "outside matters" can't be ignored, especially when people think they have the right to keep us from enjoying our fantasy pursuits in peace. Folks who want to destroy everything they can't understand are very committed; we have to be committed too.
The organizations that defend our right to be different are heroes indeed. It's because of them that places like ours stay available. Our local social and educational groups need our help and support more than ever. Only we can make sure they'll be around when we want and need them, not to mention the good they do by "demystifying" fetish interests for mainstream folks. If you can offer them time, knowledge, or money -- even as little as a dollar or two a month adds up -- you're doing something to protect this part of your life.
To connect with these groups, check our HOT LINKS page. Organizations like St. James Infirmary are especially deserving (and needful) of help in these financially-uncertain times. If you can help, please consider it. We do all we can to keep you guys happy; when you donate to St. James, you help keep ladies like us healthy.
Speaking of Hot Links, you may notice that a store we've always linked to has been dropped. We decided it was necessary. What was once a community business that encouraged and supported sex-positive expression, regardless of gender identity and orientation, has been transformed into a big commercial company with lots of stores and a very different culture. People we know and love have received a chilly reception there lately, and that's not something we want to promote. Instead, we're substituting Feelmor510, a local business that ladies here say is respectful of the alternative sex-positive community.
I think that's all for now. Stay tuned. Remember, join FMChatter if you want up-to-the-minute bulletins. Keep an eye on our Tumblr blog: . If you have questions or comments, or you're ready to make an appointment, please feel free to call: (510) 234-7887, Monday through Saturday, 10 AM - 8 PM Pacific time.