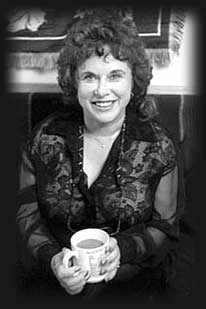 Be sure to visit Lorrett's Goodie Gallery
Hi – I'm Lorrett, Number One Slavegirl. My job is to make you comfortable, introduce you to the Fantasy Makers and slip you hot news from the Playhouse every month.
BE THE FIRST TO KNOW!
We update our web page only once every month. To get an e-mail when we post the update, announce visits by former Fantasy Makers who moved away, or post other last-minute announcements, join FMChatter, our Yahoo e-group. First, sign up for Yahoo groups HERE, then join our group. The only"real" information you have to give them is an e-mail address to send your updates. If you want an anonymous online e-mail address, Mail.com is a good bet, and their basic service is free.
In between updates, keep an eye on our social media connections. You can follow Fantasymakerssf on Twitter and Instagram, where Ladies post new pictures, announce schedule changes and surprise visits, and talk about whatever's on their minds. Ladies who fill in "rotating" shifts on short notice often announce them on Tumblr. New Ladies post sneak previews there before they pop up on the website! You can also join our FetLife group, "Fantasy Makers and Friends". If you don't already know, FetLife.com is the social go-to site for anyone with fetish or fantasy interests. It's a good place to explore your kink: join some groups and get into some discussions. Go see for yourself, and happy browsing.
,
WHAT'S NEW:
Remember what I said last month about renovations? Big doings around here start in August - it's a tradition. . Remember when we built the second floor? This August we're going to give the Playhouse a complete facelift. New roof, fresh new walls, and SOLAR POWER...wow! The ladies have ideas about decorating inside, too, when we're not making fantasies.
Last time we did this stuff, we moved into temporary space. Convenient temporary rentals are hard to find now, but since the workers will all be outside, we can stay here and make the month of August an adventure.
Does that give you some ideas? Is it a turn-on to think about doing secret, naughty things while everybody outside goes about their business and doesn't have a clue? Would it be fun to be a prisoner, or hide from the Gestapo, or play in a haunted house on a dare? Do you think a little danger is the spice of life? This may be your chance! Of course, if you prefer quiet and privacy, we want to be here for you too. Even on the most hectic days, the work crews will finish up at 4 PM or so, and things will be more normal in the evenings. Construction folks work Monday to Friday, so we're discussing being more weekend-focused – we might even do Sunday sessions while the work is being done. Hang onto your hard hats, the circus is coming to town!
We're using more professional companies than volunteers this time, but if you're looking to help, we'll probably need some strong bodies around the end of July to help us clear a path for them, and around the end of August to put stuff back. Please email me at FMCreative@fantasymakers.com if you're an aspiring Boy (or Girl) Scout.
Projected schedule: we start with August 7th and 8th for the roof. If that goes as planned, the solar install is next, on the 14th and 15th, and then we get started on the walls, which will take up to two weeks. Since this page gets updated only once a month, we'll make announcements on Chatter and our social media as things develop. Watch your e-mail box, and keep an eye on Tumblr!
ARRIVALS AND LEAVALS:
WELCOME, new Fantasy Maker ELISE. She only looks like the lady next door...she describes herself as an undercover firecracker and she is! She's all opposites; a sensual cat who's skilled in the arts of combat, an athlete who can trim you to size in several languages, and she has other interesting pastimes in her repertoire. Have a peek at her pictures and her description of things she likes to do!
FAREWELL, at least for now, to LITA. It's a corollary of Murphy's Law that the minute you start doing one thing, something else comes up. Sure enough, she got promoted, and she won't have playtime for a while. She loves us, so maybe when things settle down she'll be back.
VACATIONS AND OTHER SCHEDULE EXCEPTIONS:
It's hard to keep up with all the comings and goings, especially this year, but that's what makes us special. One or two day absences (or appearances) come up on short notice: "sneak previews", visiting "graduate" Fantasy Makers, you name it. We "usually" get some notice about vacations, so we post those on the schedule page, as accurately as we can, so you can plan ahead, but for up-to-the minute information about who's here, please give us a call.
is an intro to the camera artists who fill our pages with their images, with links to their web pages where that's appropriate. It's a great place to peek once in a while. When we hear that a photographer is inactive or not posting fetish images, we suspend their galleries so we can announce them when they send us new work.
ARRANGING APPOINTMENTS
Have a peek at our FAQ page If you're not sure how to schedule an appointment by phone or by e-mail.
IF YOU'D LIKE INDIVIDUAL INSTRUCTION:
Yes, you can arrange a private training session or two here at the Playhouse, either by yourself or with your partner. A lot of novices and couples have enjoyed being able to "try things out" with experienced people in a safe place. See our FAQ for more about this.
THE HOUSE THAT FRIENDS BUILD
This is a safe, friendly place to enjoy yourself and be yourself. We intend to keep it that way. Our friends who helped build the second floor made our house big enough, and our friends who volunteer their time, talents and ideas keep things interesting. Just to make sure our "angels" feel appreciated, here come the THANK YOU's.
Thanks, as always, to our plumber, who keeps us in (and out of) hot water, and to the hero who claims to be our One True Vanilla Friend, and is always around in a pinch. Thanks to all the other fellows who don't want to be mentioned by name, but help us with projects, and help keep the house fixed-up and shining. Thanks to the Mountain Man – he's always here for us. A thousand thanks to the Party God – for a thousand things. Thanks to our volunteer photographers, who have the terrible job of being commanded, wheedled, seduced and otherwise persuaded to take pictures of these gorgeous women. Poor babies, we'll try to make it up to you!
ARE YOU A HERO?
What can you do? Well, the first thing is to come see us when you can, and have fun here. If you visit forum or fetish sites online, talk about us! The very best advertising comes from word of mouth, and word of mouse! If you're in the building trades, this is the perfect time of year to talk to me, baby! If you have ideas and skills you'd like to share with a houseful of kinky women, ditto. With benefactors and/or volunteers with time and talent, there's no limit to what we can do. We always need heroes – what can YOU do?
If you're saddling up and dusting off your White Hat, please start out with a peek at our FAQ, then drop me an e-mail at FMCreative@fantasymakers.com. Tell me what kind of hero you want to be, and let's make it happen. Remember, no good deed will go unpunished. Or is that "unpublished"? <grin>
THE UNOFFICIAL FANTASY MAKERS' LIBRARY:
If you've visited the Playhouse, you've probably spent a little time in the Welcome Room, enjoying the suspense before being whisked off by the avatar of your fantasy. Or maybe reading one of the magazines we keep around for hospitality...
But a magazine stash needs to be freshened-up from time to time, so we do two things. If someone sees a magazine they'd like to take home, and we've had it for a while, we let them (but please ask first – a few have sentimental value). If someone wants to donate some magazines they're tired of, we let them – subject to space on our shelves. If either or both of these things apply to you, please feel free to say so.
ENCYCLOPEDIC KINK: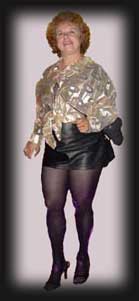 SM-201.org the WikiPedia of kink, is back online! If you want to know what it is, where it is, why it is, what it was like way-back-when, or whatever else scratches your itchy curiosity, this is the place to look. It's a project of BackDrop.net, the first kinky social group that was available to the California public. Among BackDrop's innovations was a "sessions group" that gave people like you a chance to have kinky sessions with real lifestyle players like us. 20 years later we moved into the Playhouse and started calling ourselves Fantasy Makers, but Robin and BackDrop wrote the book.
One More Thing.
One more thing. I write this column to keep you up to date on our doings, so I try to avoid making it a forum for outside matters. But some "outside matters" can't be ignored, especially when people try to keep us from enjoying our fantasy pursuits in peace. The folks who want to destroy everything they can't understand work very hard.
The organizations that defend our right to be different are heroes indeed. It's because of them that places like ours stay available. They're constantly in need of help and support. If you can offer them time, knowledge, or money even as little as a dollar or two a month adds up you're doing something to protect this part of your life.
Remember, our local social and educational groups need our support more than ever. Only we can make sure they'll be around when we want and need them, not to mention the good they do by "demystifying" fetish interests for mainstream folks.
To connect with these groups, check our HOT LINKS page. Organizations like the Center for Sex and Culture and St. James Infirmary are especially deserving (and needful) of help in these financially-uncertain times. If you can help, please consider it...we do all we can to keep you guys happy – by donating to St. James, you help keep ladies like us healthy.
I think that's all for now. Stay tuned. Remember, join FMChatter if you want up-to-the-minute bulletins. Keep an eye on our Tumblr blog: . If you have questions or comments, please feel free to call: (510) 234 7887, Monday Saturday, 10 AM 8 PM Pacific time.